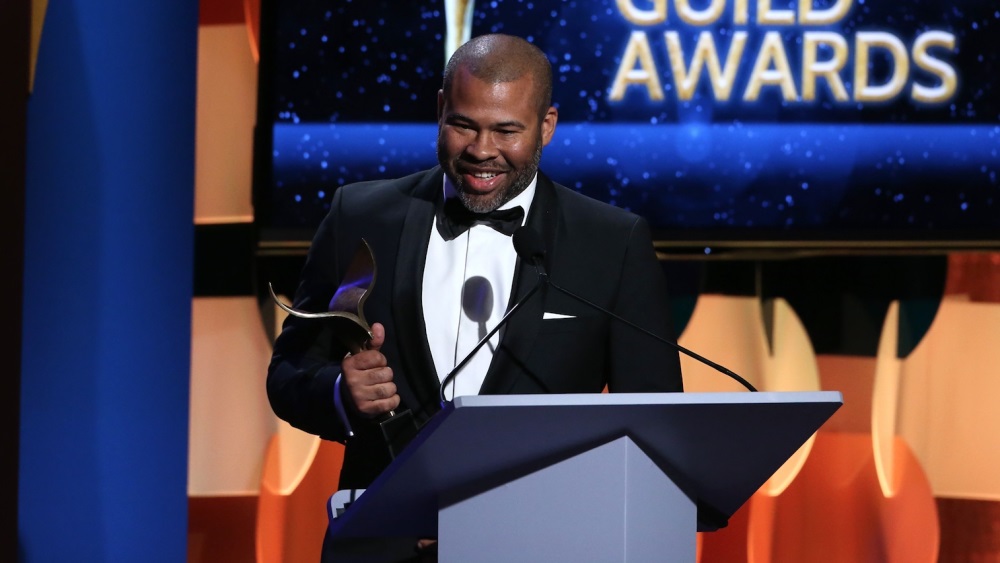 Sono stati assegnati i Writers Guild Awards 2018 e, a sorpresa, Scappa – Get Out ha conquistato il premio per la migliore sceneggiatura originale. Il film di Jordan Peele ha sbaragliato la concorrenza dei favoriti The Shape of Water e soprattutto di Tre Manifesti a Ebbing, Missouri.
Per quanto riguarda invece la categoria per la migliore sceneggiatura non originale, il premio è andato al novantenne James Ivory, per Chiamami col tuo nome.
Il premio, per Peele, potrebbe significare un grande passo verso l'Oscar a discapito di Tre Manifesti a Ebbing, Missouri, considerato il front-runner per il premio alla sceneggiatura a Martin McDonagh. Tuttavia, questo risultato potrebbe ripercorrere quello che è accaduto lo scorso anno, nella categoria degli script, quando i WGA premiarono Moonlight su La la Land, il favorito ai blocchi di partenza, ma che poi vinse la statuetta di categoria agli Oscar (dove però Moonlight concorreva in sceneggiatura non originale).
Per quanto riguarda la categoria di sceneggiature adattate, i WGA 2018 hanno premiato James Ivory e Chiamami col tuo nome ad appena 24 ore di distanza dal USC Libraries Scripter Award. Storicamente questo tandem è imbattibile.
Ecco tutti i vincitori dei WGA 2018
Original Screenplay:
"Get Out," Written by Jordan Peele; Universal Pictures
Adapted Screenplay:
"Call Me by Your Name," Screenplay by James Ivory; Based on the Novel by André Aciman; Sony Pictures Classics 
Documentary Screenplay:
"Jane," Written by Brett Morgen; National Geographic
Drama Series:
"The Handmaid's Tale," Written by Ilene Chaiken, Nina Fiore, Dorothy Fortenberry, Leila Gerstein, John Herrera, Lynn Renee Maxcy, Bruce Miller, Kira Snyder, Wendy Straker Hauser, Eric Tuchman; Hulu 
Comedy Series:
"Veep," Written by Gabrielle Allan, Rachel Axler, Ted Cohen, Jennifer Crittenden, Alex Gregory, Steve Hely, Peter Huyck, Erik Kenward, Billy Kimball, David Mandel, Ian Maxtone-Graham, Dan Mintz, Lew Morton, Georgia Pritchett, Will Smith; HBO
New Series:
"The Handmaid's Tale," Written by Ilene Chaiken, Nina Fiore, Dorothy Fortenberry, Leila Gerstein, John Herrera, Lynn Renee Maxcy, Bruce Miller, Kira Snyder, Wendy Straker Hauser, Eric Tuchman; Hulu 
Long Form Original:
"Flint," Written by Barbara Stepansky; Lifetime
Long Form Adapted:
"Big Little Lies," Teleplay by David E. Kelley, Based on the Novel by Liane Moriarty; HBO
Short Form New Media Adapted:
"Starboy" (Zac & Mia), Teleplay by Allen Clary and Andrew Rothschild, Based on the novel Zac & Mia by A.J. Betts; go90.com 
Animation:
"Time's Arrow" (BoJack Horseman), Written by Kate Purdy; Netflix
Episodic Drama:
"Chicanery" (Better Call Saul), Written by Gordon Smith; AMC
Episodic Comedy:
"Rosario's Quinceanera" (Will & Grace), Written by Tracy Poust & Jon Kinnally; NBC
Comedy/Variety Talk Series:
"Last Week Tonight with John Oliver," Writers: Tim Carvell, Josh Gondelman, Dan Gurewitch, Geoff Haggerty, Jeff Maurer, John Oliver, Scott Sherman, Will Tracy, Jill Twiss, Juli Weiner, Ben Silva, Seena Vali; HBO
Comedy/Variety Sketch Series:
"Saturday Night Live," Head Writers: Chris Kelly, Sarah Schneider, Bryan Tucker, Writers: James Anderson, Kristen Bartlett, Jeremy Beiler, Neal Brennan, Zack Bornstein, Joanna Bradley, Megan Callahan, Michael Che, Anna Drezen, Fran Gillespie, Sudi Green, Steve Higgins, Colin Jost, Erik Kenward, Rob Klein, Nick Kocher, Michael Koman, Dave McCary, Brian McElhaney, Dennis McNicholas, Drew Michael, Lorne Michaels, Josh Patten, Katie Rich, Pete Schultz, Streeter Seidell, Will Stephen, Kent Sublette, Julio Torres; NBC Universal 
Comedy/Variety Specials:
"39th Annual Kennedy Center Honors," Written by Dave Boone; CBS 
Quiz and Audience Participation:
"Hollywood Game Night," Head Writer: Grant Taylor; Writers: Michael Agbabian, Alex Chauvin, Ann Slichter, Dwight D. Smith; NBC 
Daytime Drama:
"General Hospital," Head Writers: Shelly Altman, Jean Passanante; Writers: Anna Theresa Cascio, Suzanne Flynn, Charlotte Gibson, Lucky Gold, Kate Hall, Elizabeth Korte, Daniel James O'Connor, Dave Rupel, Katherine Schock, Scott Sickles, Christopher Van Etten, Christopher Whitesell; ABC 
Children's Episodic and Specials:
"An American Girl Story – Ivy & Julie 1976: A Happy Balance" (American Girl), Written by May Chan; Amazon 
Documentary Script – Current Events:
"Confronting ISIS" (Frontline), Written by Martin Smith; PBS 
Documentary Script – Other Than Current Events"
"The Great War" Part II (American Experience), Written by Stephen Ives; PBS
News Script – Regularly Scheduled, Bulletin, or Breaking Report
"White Helmets" (60 Minutes), Written by Scott Pelley, Nicole Young, Katie Kerbstat; CBS News 
News Script – Analysis, Feature, or Commentary
"Chief of Chobani" (60 Minutes), Written by Steve Kroft, Oriana Zill de Granados; CBS News 
Digital News:
"The Super Predators," Written by Melissa Jeltsen, Dana Liebelson; Huffingtonpost.com 
Radio/Audio Nominees
Radio/Audio Documentary:
"CBS Radio 90th Anniversary," Written by Dianne E. James, Gail Lee; CBS News Radio
Radio/Audio News Script – Regularly Scheduled, Bulletin, or Breaking Report:
"World News This Week: June 9, 2017," Written by Tara Gimbel Tanis; ABC News Radio
Radio/Audio News Script – Analysis, Feature, or Commentary:
"Dishin' Digital on WCBS-AM," Written by Robert Hawley; WCBS
Promotional Writing Nominees

On-Air Promotion (Radio or Television)
"CBS Comedy," Written by Dan Greenberger; CBS
Television
Videogame Nominees
Outstanding Achievement in Videogame Writing:
Horizon Zero Dawn, Narrative Director John Gonzalez; Lead Writer Benjamin McCaw; Writing by Ben Schroder, Anne Toole; Additional Writing by Dee Warrick, Meg Jayanth; Guerrilla Games
Oscar 2018 nomination: ecco tutti i candidati ai 90° Academy Awards
Fonte: Variety