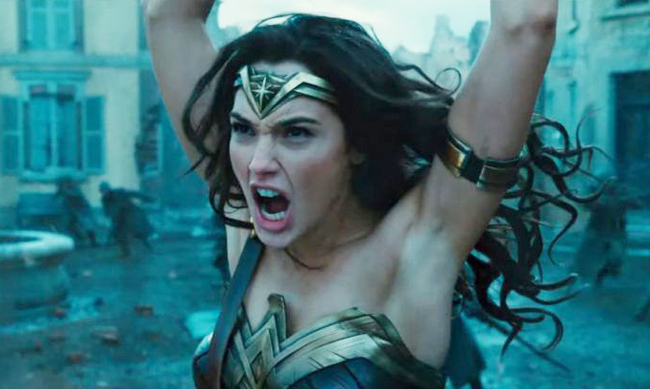 Tra dieci giorni arriverà in sala Wonder Woman e si stanno svolgendo in queste ore le prime proiezioni riservate a un pubblico selezionato e alla stampa. Le reazioni che stanno seguendo sono a dir poco favorevoli per il film di Patty Jenkins e Gal Gadot.
Ecco alcuni tweet:
Embargo lifted, so I can say unequivocally that Patty Jenkins delivered a true Wonder Woman story, in more ways than I honestly hoped.

— Andrew Dyce™ (@andrewbdyce) May 19, 2017
#WonderWoman is the best DCEU film so far. The heart of Gal Gadot's Diana powers it, and the shift from mythic into WWI story really works.

— (((Eric Eisenberg))) (@eeisenberg) May 19, 2017
Loved WONDER WOMAN. She reminds me of Christopher Reeve's Superman: true north superhero w/ no angst or cynicism, which is needed right now.

— Mike Ryan (@mikeryan) May 19, 2017
WONDER WOMAN: Easily my favorite DCEU film. Has the humor and heart the franchise so desperately needs. Gadot and Pine are charming as hell.

— Kate Erbland (@katerbland) May 19, 2017
Very pleased to report that #WonderWoman is the best DC movie since THE DARK KNIGHT. I'm already looking forward to seeing it again.

— Silas Lesnick (@silaslesnick) May 19, 2017
#WonderWoman has some of the coolest, most insanely well-performed, and badass fight scenes ever; singularly choreographed + shot. And fun!

— Alicia Lutes (@alicialutes) May 19, 2017
WONDER WOMAN is great. My favorite of the recent DC movies. It's fierce, funny, well-written and badass. @GalGadot owns it. Her lasso FTW pic.twitter.com/rQ0ufZxWXP

— ErikDavis (@ErikDavis) May 19, 2017
The most wonderful thing about WONDER WOMAN is the wonderful Wonder Woman. Gal IS Wonder Woman. Now then, about WONDER WOMAN

— Josh L. Dickey (@JLDlite) May 19, 2017
Wonder Woman trailer finale: "Loro non ti meritano"
Il film arriverà il primo giugno al cinema e sono già disponibili le prime reazioni che paragonano la pellicola di Patty Jenkins al primo film su Captain America.
CORRELATI:
Nel cast di Wonder Woman ci sono Gal Gadot, Chris Pine, Connie Nielsen, Robin Wright, Lucy Davis, Lisa Loven Kongsli, Danny Huston, Ewen Bremner, Saïd Taghmaoui, Elena Anaya e David Thewlis.
Il film è prodotto da Charles Roven, Zack Snyder e Deborah Snyder, con Richard Suckle, Stephen Jones, Wesley Coller, Geoff Johns, Connie Nielsen e Rebecca Roven come executive producers.