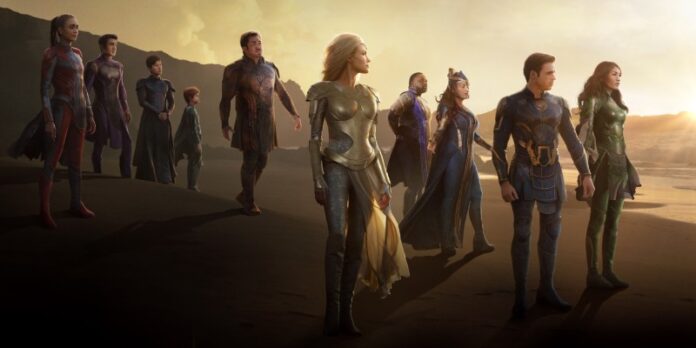 Le prime reazioni a seguito della world premiere di Eternals parlano chiaro: il film diretto da Chloe Zhao è un capolavoro del genere cinecomic, epico e poetico, un take personale su un mondo che i fan conoscono bene eppure che si rivela sempre nuovo, ancora e ancora.
Ecco di seguito alcune reazioni sui social che paragonano anche il film alla Justice League della Marvel!
#Eternals is a total blast. A lot of material to cover but it is handled well. Can't wait for people to see it. Of all the end credit scenes I've watched during a premiere, I've never heard the audience lose their minds as much as they did for this one. #eternalspremiere pic.twitter.com/LXxZXY8P1f

— Ashley Menzel (@AshleyGMenzel) October 19, 2021
Marvel's #Eternals is spectacularly weird & rich w/ a new MCU mythology that makes it feel separate from everything else. It's honestly refreshing. There's a bittersweetness to the film that you feel in its sunset shots – a definite Chloé Zhao touch. It is soulful & thoughtful pic.twitter.com/pIAFAyhJ4D

— Erik Davis (@ErikDavis) October 19, 2021
Haven't felt this giddy after a movie since The Avengers. Goosebumps. Incredible action, both planetary & interstellar and looks GORGEOUS. Most importantly, it feels like a live action anime! Can't wait to talk about Makkari & Kingo! 😥Those end credits 🤯! #Eternals pic.twitter.com/htspR64EZM

— Emotionally Invested ? (@HowieBlingAEW) October 19, 2021
Holy crap – Eternals is a freaking MASTERPIECE!!! Packed with adrenaline right from the start, but also filled with lots of heart & humor! So many MCU firsts!! Your mind will be BLOWN! Nods to comics but a totally unique story. Those end credits are GAME CHANGERS!! #Eternals pic.twitter.com/jKiMJukn4S

— Tessa Smith – Mama's Geeky (@MamasGeeky) October 19, 2021
Eternals, il film
Eternals, il terzo film della Fase Quattro dell'Universo Cinematografico Marvel diretto dalla regista vincitrice dell'Academy Award Chloé Zhao, arriverà il 3 novembre nelle sale italiane. Il film targato Marvel Studios Eternals presenta un nuovo team di supereroi dell'Universo Cinematografico Marvel: l'epica storia, che abbraccia migliaia di anni, mostra un gruppo di eroi immortali costretti a uscire dall'ombra per unirsi contro il più antico nemico dell'umanità, The Deviants.
Il cast del film comprende Richard Madden, che interpreta l'onnipotente Ikaris; Gemma Chan, che interpreta Sersi, amante dell'umanità; Kumail Nanjiani, che interpreta Kingo, dotato dei poteri del cosmo; Lauren Ridloff, che interpreta la velocissima Makkari; Brian Tyree Henry, che interpreta l'intelligente inventore Phastos; Salma Hayek, che interpreta la leader saggia e spirituale Ajak; Lia McHugh, che interpreta Sprite, eternamente giovane e al tempo stesso piena di saggezza; Don Lee, che interpreta il potente Gilgamesh; Barry Keoghan, che interpreta il solitario Druig; e Angelina Jolie, che veste i panni dell'impetuosa guerriera Thena. Kit Harington interpreta Dane Whitman.